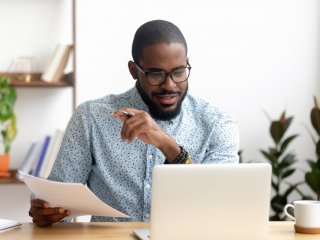 Description
Objectives
Outline
Materials
System Requirements
Watch a Demo
Our Business Communications course gives students a comprehensive review and in-depth analysis of the many roles that communication fills in modern organizational life. We focus on several specific communication roles, processes, and policies that impact organizational practices and that promote desirable outcomes for both individuals and entire organizations. We start with the basic model of and purpose for business communications. We then dive into the principles of effective busines writing – this includes how to understand your audience, the writing process, revising, and presentations. Next, we review the impacts process, culture, leadership, and media has on organizational communications.  We conclude by discussing organizational development and communication between organizations.
Prerequisite(s): None
After completing this course, you should be able to:
Define the fundamentals of effective business communication and the writing process
Recognize aspects and types of business presentations
Recall the impact that organizational process and culture has on business communications
Identify the role of organizational management and international communication
Describe the importance of group teamwork and proper communication
Business Communications Module 1
Effective Business Communication  
Communication Influences Your Thinking
Communication Influences How You Learn
Desired Communication Skills
Why is it Important to Communicate Well?
What is Communication?
Communication in Context
Your Responsibilities as a Communicator
Business Communications Module 2
Understanding Your Audience
What is Language?
Messages
Mobile Communication
Principles of Verbal Communication
Language Can be an Obstacle to Communication
Emphasis Strategies
Self-Understanding
Perception
Getting to Know Your Audience
Listening and Reading for Understanding
Business Communications Module 3
Effective Business Writing
Oral vs. Written Communication
How is Writing Learned?
Good Writing
Style in Written Communication
Overcoming Barriers to Effective Written Communication
Writing Preparation
Research and Investigation
Ethics, Plagiarism, and Reliable Sources
Reading and Analyzing
Business Communications Module 4
Writing, Revising, and Presenting  
Organization
Writing Style
Making an Argument
Paraphrase and Summary vs. Plagiarism
General Revision
Specific Revision
Style Revisions
Evaluating the Work of Others
Proofreading and Design Evaluation
Business Communications Module 5   
Feedback in the Writing Process  
Diverse Forms of Feedback
Indirect and Direct Feedback
External and Internal Feedback
Interviews and Surveys
Qualitative Research
Quantitative Research
Feedback
Business Communications Module 6
Business Writing and Presentations
Text, E-Mail, Netiquette
Memos and Letters
Business Proposals and Reports
Cover Letter, Resume, and Online Profiles
Sales Messages
Before You Choose a Topic
Finding Resources
Myths and Realities of Public Speaking
Business Communications Module 7
Verbal and Nonverbal Deliveries
Principles of Nonverbal Communication
Types of Nonverbal Communication
Movement in Your Speech
Visual Aids
Rhetorical Situation
Strategies for Success
Building a Sample Speech
Organizing Principles for Your Speech
Transitions
Business Communications Module 8
Presentations to Inform and Persuade   
Types of Presentations to Inform
Adapting Your Presentation to Teach
Diverse Types of Intelligence and Learning Styles
Creating an Informative Presentation
What is Persuasion?
Meeting the Listener's Basic Needs
Making an Argument
Speaking Ethically and Avoiding Fallacies
Business Communications Module 9
Business Presentations and Types of Communication
Telephone/VoIP Communication
Meetings
Celebrations
Media Interviews
Viral Messages
Intrapersonal Communication
Self-Concept and Dimensions of Self
Interpersonal Communication
Conflict in the Work Environment
Business Communications Module 10
Negative News and Crisis Communication
Delivering a Negative News Message
Presenting Negative News in Person
Presenting Negative News in Writing
Eliciting Negative News
Crisis Communication Plan
Press Conferences
Business Communications Module 11
Intercultural and International Business Communication  
Intercultural Communication
Common Cultural Characteristics
Divergent Cultural Characteristics
International Communication and the Global Marketplace
International Business and Law Enforcement
Styles of Management
Virtual Communication Across Cultures
Business Communications Module 12
Group Communication, Teamwork, and Leadership  
What is a Group?
Organizational Cultures and Communication
Group Problem Solving
Business and Professional Meetings
Teamwork and Leadership
Family Business
**Outlines are subject to change, as courses and materials are updated.**
Ed4Career is committed to being both environmentally conscious and making it easier for you to study! We're making your education mobile! All of our textbooks are now provided as eTextbooks. You can access them on your laptop, tablet, or mobile device and can study anytime, anywhere.
The move away from physical books to eTextbooks means you get the latest, most up-to-date version available. This also makes your training more accessible, so you can study anywhere you have your phone or tablet. The best part is that all materials are included in your training cost so there are NO extra fees for books!
Internet Connection
Broadband or High-Speed - DSL, Cable, and Wireless Connections
*Dial-Up internet connections will result in a diminished online experience. Classroom pages may load slowly and viewing large audio and video files may not be possible.
Hardware Requirements
Processor - 2GHz Processor or Higher
Memory - 1 GB RAM Minimum Recommended
PC Software Requirements
Operating Systems - Windows 7 or higher
Microsoft Office 2013 or higher. Also, you could use a general Word Processing application to save and open Microsoft Office formats (.doc, .docx, .xls, .xlsx, .ppt, .pptx)
Internet Browsers - Google Chrome is highly recommended


Cookies MUST be enabled
Pop-ups MUST be allowed (Pop-up Blocker disabled)

The Kindle Reader App or VitalSource Bookshelf App are needed for many of our courses (No special equipment needed. This can be downloaded for FREE onto your computer.)
PowerPoint Viewer (if you do not have PowerPoint)
QuickTime, Windows Media Player &/or Real Player
MAC Software Requirements
Operating Systems - Mac OS x 10 or higher with Windows
Mac office programs or a Word Processing application to save and open Microsoft Office formats (.doc, .docx, .xls, .xlsx, .ppt, .pptx)
Internet Browsers- Google Chrome is highly recommended


Cookies MUST be enabled
Pop-ups MUST be allowed (Pop-up Blocker disabled)

The Kindle Reader App or VitalSource Bookshelf App are needed for many of our courses (No special equipment needed. This can be downloaded for FREE onto your computer.)
PowerPoint Viewer (if you do not have PowerPoint)
Adobe PDF Reader
Apple QuickTime Media Player