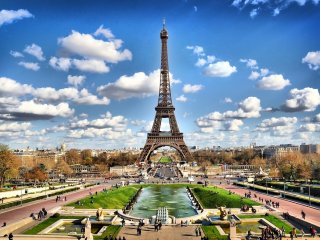 Description
Objectives
Outline
Materials
System Requirements
Watch a Demo
Have you always wanted to learn another language? Do you love traveling and hope to travel to a French-speaking country? If so, this course is for you. French is the primary or secondary language spoken in approximately forty countries across the world. The French language belongs to the group of romance language that also includes Spanish and Italian and Portuguese. This course will introduce the French language and culture and provide the opportunity to practice listening, speaking, and writing in French as well as beginning grammar and vocabulary.  
Prerequisite(s): None
After completing this course, you should be able to:
Recall key facts about aspects of the French culture around the world
Recognize the basic grammatical structure of the French language expected for a beginning learner
Identify vocabulary and verbs appropriate to converse about everyday topics such as greetings, personal description, the weather, and activities
Recall how to ask and respond to basic questions in the French language
Identify the basic vocabulary and verbs to talk about past and future activities
French I Module 1
On Commence!
Le Monde Francophone
Les salutations formelles
Les salutations familiéres
Les nombres de zéro à cinquante-nef
Les jours de la semaine
Des expressions utiles
L'alphabet
l'heure officielle
French I Module 2
À l'université: Compétence 1 and 2
La Côte d'Azur
Les gens à l'université
Les pronoms sujets
Le verbe être
La négation et quelques adjectifs
La description des gens
D'autres adjectifs et le comparatif
Les questions
French I Module 3
À l'université: Compétence 3 and 4
Le campus et le quartier
Le genre, l'article indéfini et l'expression il y a
C'est ou il est / elle est
L'université et les cours
L'article défini
Un autoportrait
Les études
French I Module 4
Après les cours: Compétence 1 and 2
Á Nice
Les temps libres et les loisirs
L'infinitif
Le weekend
Les verbes en -er
Le pronom on et les adverbes
Quelques verbes á changements orthographiques
French I Module 5   
Après les cours: Compétence 3 and 4
La journée
Les mots interrogatifs
Les questions par inversion
Au café
Les nombres de soixante à cent et l'argent
Au Vieux Port de Nice
Les cafés en France
French I Module 6
Un nouvel appartement: Compétence 1 and 2
Au Québec et en Nouvelle-Angleterre
Le logement
Les nombres au-dessus de 100 et les nombres ordinaux
Un nouvel appartement
Dans le salon
Le verbe avoir
Quelques prépositions
French I Module 7
Un nouvel appartement: Compétence 3 and 4
Les meubles et les couleurs
La place de l'adjectif
La possession et les adjectifs possessifs
Des renseignements
Les adjectifs ce et quel
Les couleurs et leurs effets sur la nature humaine
Un mail
Le Québec d'aujourd'hui
French I Module 8
En famille: Compétence 1 and 2
En Amérique: En Louisiane
Ma famille
Les expressions avec avoir
Asking for clarification
Le temps libre
Le verbe aller, la préposition à et le pronom y
L'impératif
French I Module 9
En famille: Compétence 3 and 4
Le week-end prochain
Le futur immédiat
Les dates
Les moyens de transport
Les verbes prendre et venir et les moyens de transport
Deux mots
L'histoire des Canadiens
French I Module 10
Les projets: Compétence 1 and 2
La France et ses régions
Le week-end dernier
Le passé composé avec avoir
Using the sequence of events to make logical guesses
Qu'est-ce qu'elle a fait?
Je suis parti(e) en voyage
Le passé composé avec être
Les expressions qui désignent le passé et reprise du passé composé
French I Module 11
Les projets: Compétence 3 and 4
Le temps et les projets
Le verbe faire, l'expression ne… rien et les expressions pour décrire le temps
Les expressions avec faire
Les vêtements
Les pronoms le, la, l' et les
Je blogue donc je suis
Un voyage en France
Le sport et le temps libre des Français
**Outlines are subject to change, as courses and materials are updated.**
Ed4Career is committed to being both environmentally conscious and making it easier for you to study! We're making your education mobile! All of our textbooks are now provided as eTextbooks. You can access them on your laptop, tablet, or mobile device and can study anytime, anywhere.
The move away from physical books to eTextbooks means you get the latest, most up-to-date version available. This also makes your training more accessible, so you can study anywhere you have your phone or tablet. The best part is that all materials are included in your training cost so there are NO extra fees for books!
Internet Connection
Broadband or High-Speed - DSL, Cable, and Wireless Connections
*Dial-Up internet connections will result in a diminished online experience. Classroom pages may load slowly and viewing large audio and video files may not be possible.
Hardware Requirements
Processor - 2GHz Processor or Higher
Memory - 1 GB RAM Minimum Recommended
PC Software Requirements
Operating Systems - Windows 7 or higher
Microsoft Office 2013 or higher. Also, you could use a general Word Processing application to save and open Microsoft Office formats (.doc, .docx, .xls, .xlsx, .ppt, .pptx)
Internet Browsers - Google Chrome is highly recommended


Cookies MUST be enabled
Pop-ups MUST be allowed (Pop-up Blocker disabled)

The Kindle Reader App or VitalSource Bookshelf App are needed for many of our courses (No special equipment needed. This can be downloaded for FREE onto your computer.)
PowerPoint Viewer (if you do not have PowerPoint)
QuickTime, Windows Media Player &/or Real Player
MAC Software Requirements
Operating Systems - Mac OS x 10 or higher with Windows
Mac office programs or a Word Processing application to save and open Microsoft Office formats (.doc, .docx, .xls, .xlsx, .ppt, .pptx)
Internet Browsers- Google Chrome is highly recommended


Cookies MUST be enabled
Pop-ups MUST be allowed (Pop-up Blocker disabled)

The Kindle Reader App or VitalSource Bookshelf App are needed for many of our courses (No special equipment needed. This can be downloaded for FREE onto your computer.)
PowerPoint Viewer (if you do not have PowerPoint)
Adobe PDF Reader
Apple QuickTime Media Player