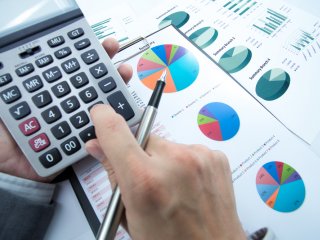 Description
Objectives
Outline
Materials
System Requirements
Watch a Demo
Are you interested in identifying, measuring, analyzing, interpreting, and communicating information for the pursuit of an organization's goals?  Our Managerial Accounting course provides managers the tools needed to make the best decisions to achieve the goals of their organizations. Students will explore the building blocks of managerial accounting, standard costs and variances, budgeting, and performance measures. Our curriculum will encourage managers to not only use all quantitative tools and techniques available to them, but also logic, insight, judgment, and common sense.
Prerequisite(s): None
After completing this course, you should be able to:
Define the fundamentals of cost-volume-profit analysis
Identify the differences in cost flows among service, merchandising, and manufacturing enterprises
Differentiate between job order costing and process costing
Recognize aspects of responsibility accounting, including cost, profit, and investment centers
Identify and use relevant costs and revenues in decision making
Managerial Accounting Module 1
Accounting as a Tool for Managers
Responsibilities of Management
Differentiate Between Financial vs. Managerial Accounting
Roles and Skills of Managerial Accountants
Ethical Standards
Today's Business Environment
Institute of Management Accountants
Managerial Accounting Module 2
Building Blocks of Managerial Accounting
Merchandising Organizations
Manufacturing Organizations
Service Organizations
Basic Cost Behavior Patterns
Activity Level for Unit Costs
Functions of Cost Equations
Scatter Graphs
Managerial Accounting Module 3
Cost-Volume-Profit Analysis
Unit Contribution Margin
Contribution Margin Ratio
Evolution of Cost-Volume-Profit Relationships
Break-Even Concepts
Break-Even Sensitivity Analysis
Margin of Safety
Managerial Accounting Module 4
Job Order Costing
Job Order Costing vs. Process Costing
Organization of Flow of Goods through Production
Selling and Administrative Costs
Recording Costs
Direct Materials
Direct Labor
Manufacturing Overhead
Indirect Labor
Underapplied or Overapplied Overhead
Managerial Accounting Module 5   
Process Costing
Conversion Costs
Mechanics of Applying Conversion Costs
Total Cost Production in Initial Processing Stage
Total Cost Production in Subsequent Processing Stage
Journal Entries for Process Costing System
Managerial Accounting Module 6
Activity-Based, Variable, and Absorption Costing  
Predetermined Overhead
Traditional Allocation Method
Cost Drivers
Activity-Based Product Costs
Traditional and Activity-Based Costing Systems
Variable and Absorption Costing
Managerial Accounting Module 7
Budgeting
Why Managers Use Budgets
Master, Operating, and Financial Budgets
Prepare Operating Budgets
Production and Direct Materials Budgets
Prepare Financial Budgets
Prepare Flexible Budgets
Using Budgets to Evaluate Goals
Managerial Accounting Module 8
Standard Costs and Variances
Fundamentals of Standard Costs
Material Variances
Labor Variances
Overhead Variances
How Companies Use Variance Analysis
Managerial Accounting Module 9
Responsibility Accounting and Decentralization
Management Control System
Centralization and Decentralization Organizations
Daily and Strategic Decision-Making
Responsibility Accounting
Responsibility Centers
Performance Evaluation of Responsibility Centers
Managerial Accounting Module 10
Short-Term Decision Making
Avoidable vs. Unavoidable Costs
Sunk Costs
Opportunity Costs
Accepting and Rejecting a Special Order
Make or Buy
Keep or Discontinue
Sell or Process
Managerial Accounting Module 11
Capital Budgeting Decisions
Capital Investment Decisions
Non-Time Value Methods
Accounting Rate of Return
Time Value of Money
Discounted Cash Flow Model
Managerial Accounting Module 12
Balanced Scorecard and Other Performance Measures
Performance Measurement
Limitations of Traditional Performance Measurement
Effective Performance Measure
Return on Investment
Residual Income
Economic Value Added
Balanced Scorecard
**Outlines are subject to change, as courses and materials are updated.**
Ed4Career is committed to being both environmentally conscious and making it easier for you to study! We're making your education mobile! All of our textbooks are now provided as eTextbooks. You can access them on your laptop, tablet, or mobile device and can study anytime, anywhere.
The move away from physical books to eTextbooks means you get the latest, most up-to-date version available. This also makes your training more accessible, so you can study anywhere you have your phone or tablet. The best part is that all materials are included in your training cost so there are NO extra fees for books!
Internet Connection
Broadband or High-Speed - DSL, Cable, and Wireless Connections
*Dial-Up internet connections will result in a diminished online experience. Classroom pages may load slowly and viewing large audio and video files may not be possible.
Hardware Requirements
Processor - 2GHz Processor or Higher
Memory - 1 GB RAM Minimum Recommended
PC Software Requirements
Operating Systems - Windows 7 or higher
Microsoft Office 2013 or higher. Also, you could use a general Word Processing application to save and open Microsoft Office formats (.doc, .docx, .xls, .xlsx, .ppt, .pptx)
Internet Browsers - Google Chrome is highly recommended


Cookies MUST be enabled
Pop-ups MUST be allowed (Pop-up Blocker disabled)

The Kindle Reader App or VitalSource Bookshelf App are needed for many of our courses (No special equipment needed. This can be downloaded for FREE onto your computer.)
PowerPoint Viewer (if you do not have PowerPoint)
QuickTime, Windows Media Player &/or Real Player
MAC Software Requirements
Operating Systems - Mac OS x 10 or higher with Windows
Mac office programs or a Word Processing application to save and open Microsoft Office formats (.doc, .docx, .xls, .xlsx, .ppt, .pptx)
Internet Browsers- Google Chrome is highly recommended


Cookies MUST be enabled
Pop-ups MUST be allowed (Pop-up Blocker disabled)

The Kindle Reader App or VitalSource Bookshelf App are needed for many of our courses (No special equipment needed. This can be downloaded for FREE onto your computer.)
PowerPoint Viewer (if you do not have PowerPoint)
Adobe PDF Reader
Apple QuickTime Media Player