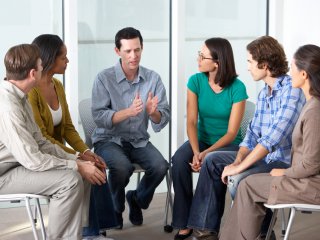 Description
Objectives
Outline
Materials
System Requirements
Watch a Demo
Social psychologists investigate how we view ourselves and others, how we interact with others, how we influence others, and how we act when we are part of a group. Given the amount of time each of us spend thinking about and interacting with the people we encounter every day, much of our lives are spent with the subject matter of social psychology. You encounter social psychology in your day-to-day life, and a textbook on social psychology should reflect that. This course draws on experiences we might encounter to enhance learning of social psychological theories and concepts. Connections are made between aspects of that experience and social psychological terms, concepts, and theories to give a broad overview of the field of social psychology.
Prerequisite(s): None
After completing this course, you should be able to:
Define the concept of self as understood in the field of social psychology
Identify how moods and emotions affect our lives and others
Recall aspects of behavior, persuasion, perception, and aggression
Recognize concepts behind influencing, conforming, loving, and helping others
Describe how group interactions, stereotypes, prejudice, and discrimination affect others
Social Psychology Module 1
Introducing Social Psychology
History and Principles
The Person and the Social Situation
Social Cognition
Social Affect
Social Behavior
Social Neuroscience
Observational Research
Social Psychology Module 2
Social Learning and Social Cognition
Social Knowledge
How We Use Our Expectations
Automatic vs. Controlled Cognition
Overconfidence
Cognitive Biases in Everyday Life
Social Psychology Module 3
Social Affect
Moods and Emotions in Our Social Lives
The Physiology of Affect
Basic and Secondary Emotions
Culture and Gender Differences in Emotional Responses
Emotions, Stress, and Well-Being
Stress and the Immune System
Depression and Anxiety
Coping with Negative Emotions
Distorting and Suppressing Negative Outcomes
Self-Regulation
Power of Positive Emotions
Social Psychology Module 4
The Self
Development and Characteristics of Self-Concept
Overestimating How Others View Us
Self-Awareness
Self-Esteem
Self-Monitoring
Self-Presentation
Social Groups Provide Social Identity
Social Psychology Module 5   
Attitudes, Behavior, and Persuasion
Attitudes are Evaluations
Strong Attitudes
When Do Our Attitudes Guide Our Behaviors?
Choosing Effective Communicators
Creating Effective Communications
Preventing Persuasion
Self-Perception
Social Psychology Module 6
Perceiving Others
Initial Impressions
Nonverbal Behavior
Judging People by Their Traits
Making Inferences About Personality
Attributions for Success and Failure
Self-Serving Attributions
Perceiver Characteristics
Cultural Differences in Person Perception
Attributional Styles and Mental Health
Social Psychology Module 7
Influencing and Conforming
Informational Conformity
Normative Conformity
Majority Influence
Minority Influence
Obedience, Power, and Leadership
Person Differences
Gender Differences
Cultural Differences
Psychological Reactance
Social Psychology Module 8
Liking and Loving
Initial Attraction
Physical Attraction
Similarity
Closeness and Intimacy
Communal and Exchange Relationships
Interdependence and Commitment
What is Love?
Hormones and Close Relationships
Social Psychology Module 9
Helping and Altruism
Understanding Altruism
Moods and Emotions
Positive Moods Increase Helping
Guilt Increases Helping
Personal Distress
How Social Context Influences Helping
Gender and Cultural Differences
Who Do We Help?
Social Psychology Module 10
Aggression
Biological and Emotional Causes of Aggression
Role of Biology on Aggression
How Social Situations Influence Aggression
Social Learning and Modeling
Television, Video Games, and Handguns
Viewing Violence
Personal and Cultural Influences on Aggression
Social Psychology Module 11
Group Performance and Decision Making
Understanding Social Groups
Similarity
Communication, Interdependence, Group Structure
Social Identity
Group Process
Improving Group Performance
Social Facilitation and Social Inhibition
Process Losses and Process Gains
Social Psychology Module 12
Stereotypes, Prejudice, and Discrimination
Social Categorization
Stereotyping
Ingroup Favoritism and Prejudice
Personality and Cultural Determinants of Ingroup Favoritism
Reducing Discrimination
Changing Social Norms
Intergroup Contact
Benefits of Recategorization
Social Psychology Module 13
Competition and Cooperation in Our Social Worlds
Conflict, Cooperation, Morality, and Fairness
Competition and Conflict
Role of Social Dilemmas
Who Cooperates and Who Competes?
Gender and Cultural Differences
Strategies for Producing Cooperation
Task Characteristics and Perceptions
Privatization
Role of Communication
**Outlines are subject to change, as courses and materials are updated.**
Ed4Career is committed to being both environmentally conscious and making it easier for you to study! We're making your education mobile! All of our textbooks are now provided as eTextbooks. You can access them on your laptop, tablet, or mobile device and can study anytime, anywhere.
The move away from physical books to eTextbooks means you get the latest, most up-to-date version available. This also makes your training more accessible, so you can study anywhere you have your phone or tablet. The best part is that all materials are included in your training cost so there are NO extra fees for books!
Internet Connection
Broadband or High-Speed - DSL, Cable, and Wireless Connections
*Dial-Up internet connections will result in a diminished online experience. Classroom pages may load slowly and viewing large audio and video files may not be possible.
Hardware Requirements
Processor - 2GHz Processor or Higher
Memory - 1 GB RAM Minimum Recommended
PC Software Requirements
Operating Systems - Windows 7 or higher
Microsoft Office 2013 or higher. Also, you could use a general Word Processing application to save and open Microsoft Office formats (.doc, .docx, .xls, .xlsx, .ppt, .pptx)
Internet Browsers - Google Chrome is highly recommended


Cookies MUST be enabled
Pop-ups MUST be allowed (Pop-up Blocker disabled)

The Kindle Reader App or VitalSource Bookshelf App are needed for many of our courses (No special equipment needed. This can be downloaded for FREE onto your computer.)
PowerPoint Viewer (if you do not have PowerPoint)
QuickTime, Windows Media Player &/or Real Player
MAC Software Requirements
Operating Systems - Mac OS x 10 or higher with Windows
Mac office programs or a Word Processing application to save and open Microsoft Office formats (.doc, .docx, .xls, .xlsx, .ppt, .pptx)
Internet Browsers- Google Chrome is highly recommended


Cookies MUST be enabled
Pop-ups MUST be allowed (Pop-up Blocker disabled)

The Kindle Reader App or VitalSource Bookshelf App are needed for many of our courses (No special equipment needed. This can be downloaded for FREE onto your computer.)
PowerPoint Viewer (if you do not have PowerPoint)
Adobe PDF Reader
Apple QuickTime Media Player