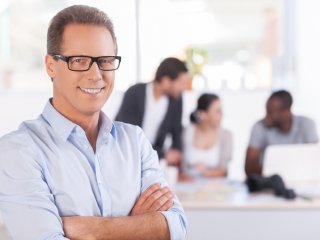 Course Type:
Instructor Led - 4 Weeks Long
Description
Objectives
Outline
Materials
System Requirements
First time managers have their work cut out for them, many new skills to learn, having to deal with different personalities, and greater responsibilities to accomplish. The Becoming a First Time Manager course provides a new, friendly approach for those charged with the task of management. This course encourages managers to take on the challenges of supervision and provides fast, powerful lessons to help increase productivity, unlock hidden talent, work with different types of people, communicate effectively, and diagnose problems. This course will assist the next generation of managers to succeed with flying colors, right from the start.
* You have 4 weeks to complete this course from date of your enrollment.
** Course Subject to Change.
After completing this course, you should be able to:
Recall how to lead people effectively
Identify the best forms of communication
Recognize personal and interpersonal effectiveness
List ways of eliminating conflict in the workplace
Becoming a First Time Manager Module 1
Leading People & Individual Differences
Module 1 focuses on learning what most employees want to gain out of their careers, and how to lead people effectively. We will learn to look at how to balance work and your personal lives when you take on the role of a manager so that your personal life doesn't suffer. Finally, this module focuses on getting your employees to be productive and identifying strengths and weaknesses in your employees and using that knowledge to be productive in the workplace.
What do Employees Want?

Unleashing Productivity
Turning on Talent
Balancing Work and Life
Focusing on Ability
Becoming a First Time Manager Module 2
Leader Effectiveness & Optimizing Contributions
Module 2 discusses the best forms of communication and how to use open, two-way communications to get the best from each and every employee you are managing. Managing others requires that you learn the right questions to ask and listening to your employees to earn and maintain respect from within your department.
Open Two-Way Communication

What Works and What Doesn't
Asking and Listening
Diagnosing Problems
Teamwork
Becoming a First Time Manager Module 3
Personal and Interpersonal Effectiveness
Managers are humans too, so it is imperative to learn how to handle stress without allowing anger and frustration to affect how you treat individuals who work for you. Module 3 focuses on owning your anger, asserting yourself without being aggressive, and tools for dealing with those difficult people you will encounter.
Staying on Top of Stress

Owning your Anger
Asserting Yourself
Rising to the Challenge
Dealing with Difficult People
Becoming a First Time Manager Module 4
Eliminating Conflict
Module 4 will identify barriers that can cause the workplace to lose effectiveness. Also, as a manager, it is imperative to be able to see signs of harassment and violence in the workplace and know how these can be avoided with good leadership.
Barriers to an Effective Workplace

Prevention of Harassment
Prevention of Workplace Violence
Defuse and Protect Employees
Good Leadership Strategies
Ed4Career is committed to being both environmentally conscious and making it easier for you to study! We're making your education mobile! All of our textbooks are now provided as eTextbooks. You can access them on your laptop, tablet, or mobile device and can study anytime, anywhere.
The move away from physical books to eTextbooks means you get the latest, most up-to-date version available. This also makes your training more accessible, so you can study anywhere you have your phone or tablet. The best part is that all materials are included in your training cost so there are NO extra fees for books!
Internet Connection
Broadband or High-Speed - DSL, Cable, and Wireless Connections
*Dial-Up internet connections will result in a diminished online experience. Classroom pages may load slowly and viewing large audio and video files may not be possible.
Hardware Requirements
Processor - 2GHz Processor or Higher
Memory - 1 GB RAM Minimum Recommended
PC Software Requirements
Operating Systems - Windows 7 or higher
Microsoft Office 2013 or higher. Also, you could use a general Word Processing application to save and open Microsoft Office formats (.doc, .docx, .xls, .xlsx, .ppt, .pptx)
Internet Browsers - Google Chrome is highly recommended


Cookies MUST be enabled
Pop-ups MUST be allowed (Pop-up Blocker disabled)

The Kindle Reader App or VitalSource Bookshelf App are needed for many of our courses (No special equipment needed. This can be downloaded for FREE onto your computer.)
PowerPoint Viewer (if you do not have PowerPoint)
QuickTime, Windows Media Player &/or Real Player
MAC Software Requirements
Operating Systems - Mac OS x 10 or higher with Windows
Mac office programs or a Word Processing application to save and open Microsoft Office formats (.doc, .docx, .xls, .xlsx, .ppt, .pptx)
Internet Browsers- Google Chrome is highly recommended


Cookies MUST be enabled
Pop-ups MUST be allowed (Pop-up Blocker disabled)

The Kindle Reader App or VitalSource Bookshelf App are needed for many of our courses (No special equipment needed. This can be downloaded for FREE onto your computer.)
PowerPoint Viewer (if you do not have PowerPoint)
Adobe PDF Reader
Apple QuickTime Media Player