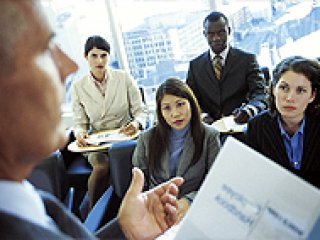 Course Type:
Instructor Led - 4 Weeks Long
Description
Objectives
Outline
Materials
System Requirements
In a professional setting, chances are all of us have been asked to manage projects, whether large or small in scope. Our Project Management Fundamentals course provides a solid basis for individuals who would like to understand the field of project management and the concepts used to successfully deliver projects. We cover the "big picture" by developing project objectives, analyzing appropriate timelines and organization and roles and responsibilities of participants and stakeholders. After taking this course, students will be prepared to discover concepts, tools and ways to manage projects to achieve positive outcomes.
* You have 4 weeks to complete this course from date of your enrollment.
** Course Subject to Change.
After completing this course, you should be able to:
Define project management, a project manager's role and ways to successfully achieve results
Identify the principles of risk management and work breakdown structure
Recall how to develop and motivate a team and also identify proper communication methods
Recognize the principles of earned value management and ways to take your project to the next level
Project Management Fundamentals Module 1
The Key to Achieving Results
A project is a temporary undertaking performed to produce a unique product, service, or result. In module one, we will explore the basics of what makes a project, we will define the project's audience and we will determine typical project constraints. Understanding how your project fits the bigger picture is very important, as well as identifying the scope of the project.
What Makes a Project a Project?
Project Manager's Role
Project's Audience – Drivers, Supporters and Observers
Project Constraints
Work Breakdown Structure
Network Diagram
Project Management Fundamentals Module 2
Determining When and How Much
In this module, we will decide what skills and knowledge team members must have in order to further develop a project. We will also discuss team members' roles and responsibilities, how to delegate assignments and effective management techniques. In addition to clearly defined objectives, a workable schedule, and adequate resources, a successful project needs sufficient funds to support the required resources.
Project Commitment
Developing the Budget
Defining Risk and Risk Management
Organizational Environments
Team Members' Roles and Responsibilities
Project Management Fundamentals Module 3
Managing Your Project to Success
Successful projects require continued care and management to ensure that they follow their plans correctly and, in turn, produce the desired results. In module three we will discuss how to maintain a communications plan and how to keep team members motivated. Developing your own management skills is vitally important, so this week we will identify traits of an effective leader and work to improve your ability to influence your project team.
Developing a Team
Tracking Progress and Maintaining Control
Project Communication
Differences Between Leadership and Management
Team Member Motivation
Project Management Fundamentals Module 4
Taking Your Project to the Next Level
A major part of project management is information: getting it, storing it, analyzing it, and sharing it. In this final module, we will explore ways to use technology and social media to take your project to the next level. We will define Earned Value Management in order to identify potential problems in your project. Finally, tips and tricks for becoming a better project manager are examined.
Using Technology
Using Social Media
Earned Value Management
Ten Questions to Ask Yourself as You Plan Your Project
Ten Tips for Being a Better Project Manager
Ed4Career is committed to being both environmentally conscious and making it easier for you to study! We're making your education mobile! All of our textbooks are now provided as eTextbooks. You can access them on your laptop, tablet, or mobile device and can study anytime, anywhere.
The move away from physical books to eTextbooks means you get the latest, most up-to-date version available. This also makes your training more accessible, so you can study anywhere you have your phone or tablet. The best part is that all materials are included in your training cost so there are NO extra fees for books!
Internet Connection
Broadband or High-Speed - DSL, Cable, and Wireless Connections
*Dial-Up internet connections will result in a diminished online experience. Classroom pages may load slowly and viewing large audio and video files may not be possible.
Hardware Requirements
Processor - 2GHz Processor or Higher
Memory - 1 GB RAM Minimum Recommended
PC Software Requirements
Operating Systems - Windows 7 or higher
Microsoft Office 2013 or higher. Also, you could use a general Word Processing application to save and open Microsoft Office formats (.doc, .docx, .xls, .xlsx, .ppt, .pptx)
Internet Browsers - Google Chrome is highly recommended


Cookies MUST be enabled
Pop-ups MUST be allowed (Pop-up Blocker disabled)

The Kindle Reader App or VitalSource Bookshelf App are needed for many of our courses (No special equipment needed. This can be downloaded for FREE onto your computer.)
PowerPoint Viewer (if you do not have PowerPoint)
QuickTime, Windows Media Player &/or Real Player
MAC Software Requirements
Operating Systems - Mac OS x 10 or higher with Windows
Mac office programs or a Word Processing application to save and open Microsoft Office formats (.doc, .docx, .xls, .xlsx, .ppt, .pptx)
Internet Browsers- Google Chrome is highly recommended


Cookies MUST be enabled
Pop-ups MUST be allowed (Pop-up Blocker disabled)

The Kindle Reader App or VitalSource Bookshelf App are needed for many of our courses (No special equipment needed. This can be downloaded for FREE onto your computer.)
PowerPoint Viewer (if you do not have PowerPoint)
Adobe PDF Reader
Apple QuickTime Media Player